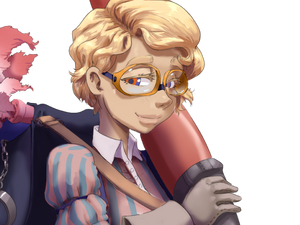 The strange merchant is a peddler carrying suspicious wares. She is often found at the starting area, near the Town of Silajam. 
If you are not in chastity, after perusing her wares, she will ask if you want to try out one of her toys. If you did, next time you meet her, she will put you in a chastity cage.
When meeting her with a chastity cage on, she will ask how you get off with the cage on. If you have an anal addict score less than 3, you will walk away. If you have an anal addict score of 3 or more, you will fail the check, and explain you get off with your butt. You can resist the temptation, and walk away. If you do not have any willpower left or give in to the temptation, she will fuck you with a strap-on. She will then decide to parade you around while she travels, making you give up your quest, resulting in a game over. 
Below is a list of items the strange merchant sells along with the price of each item.
Health pot (15)-2GP 
Ox pot (3)-15GP
Cat pot (3)-15GP
Bear pot (3)-15GP
Butt plug-15GP
Anal beads-15GP
Tail plug-15GP
Ring plug-15GP
Ring gag-15GP
Ball gag-15GP
Chastity cage-5GP
Chastity belt-16GP
Normal

- Unlocked automatically

Cage
Cage(Click)
Pegging
Pegging(Cage)
Pegging(Smile)
Pegging(Full)
////
////
The chastity belt (not the cage) currently doesn't seem to do anything to prevent anal insertions.
Community content is available under
CC-BY-SA
unless otherwise noted.