Jurassic World: Dominion Dominates Fandom Wikis - The Loop
Play Sound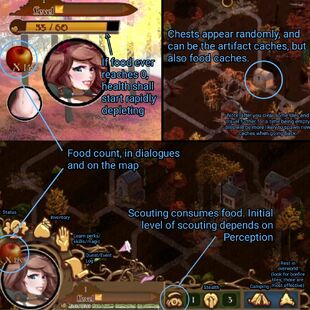 In ToA food is an important resource that requires some explanation. Running out of food in the worst case can result in a Game Over. So, the player has to learn how to keep its level sufficient. As defeat in a battle won't lead to an instant Game Over in the majority of cases, the key for survival is feeding yourself.
How it's consumed
[
]
When some time passes in-game, you lose some of your food. Amount is dependent on your Metabolic Rate. Food is consumed in these cases:
you're moving to a tile on the overworld map: each time one quarter of a day passes and you spend the ration worth one Metabolic Rate;
you're scouting;
by resting when you want to recover health, either in overworld, city or your camp — technically even in an inn;
when other time-consuming actions are performed: you're taking a carriage to another settlement, or you're being taken hostage in a few encounter scenarios.
Starting as the Elfblood race and finding the Hunger Charm each reduce your Metabolic Rate by -1.
The Orcblood race has a +1 Metabolic Rate. Also the companions that stay in your camp will each add +1 to consumption: Kylira and Trudy (NOT Urka or Warlock).
How to get it
[
]
When you feel that you don't have enough food for your journey, you'll need to find more. There are various opportunities to acquire more food:
Beginning Bonuses can provide you with some additional starting food;
Sleeping in an inn is an efficient way of stocking food, as you get +40 of food for 10 gold, and can get as much as you are able to afford; but keep in mind there are no inns past Ironia you can sleep in;
Food caches, that randomly appear on some tiles in overworld, can give you up to +30 food, but you have to spot them, then open them with scouting level 3, otherwise you get less;
Buying food from travelling merchants;
Foraging, the last case scenario. When your food reaches 0 and you move on the overworld, a random forage encounter begins. They can range from felling a deer and gaining food to being forced to have sex for a meal. Can lead to a game over if you're unlucky and have 3 ranks in Beastmaster. The Forager perk increases your chances for a positive result.
Finding food in encounters
[
]
Finally, there are various encounters where you can pass certain checks will reward you with food: